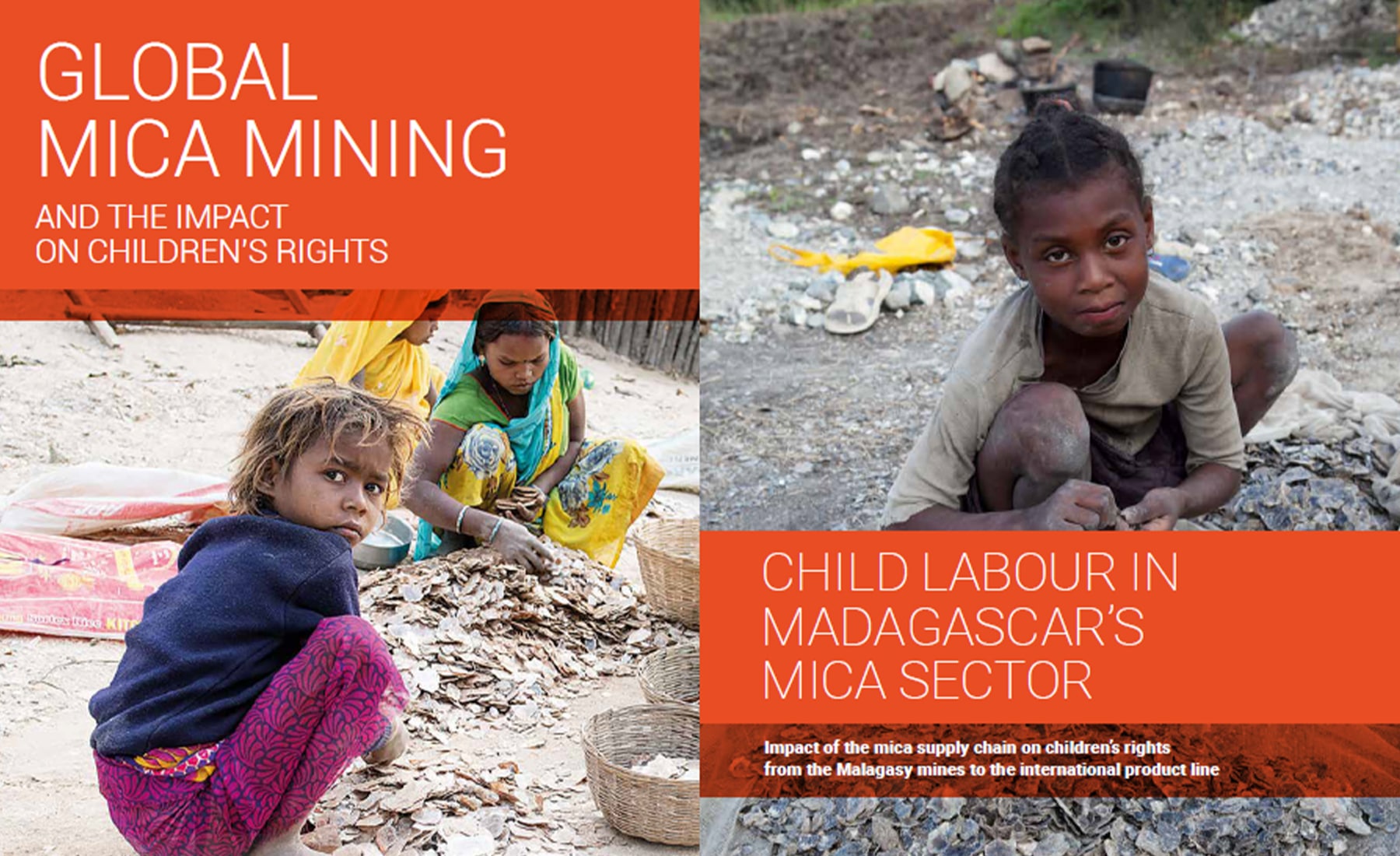 Due diligence in mica supply chains
A recent report released by SOMO and Terres des Hommes on child labour in the Malagasy mica mining industry is a timely reminder of the extent of child labour in the production of this key mineral that is widely used in the cosmetics, automotive and electronics industries.
Campaigners are having some success in raising awareness of human rights abuses in mica supply chains and nascent collaborative efforts are underway via the Responsible Mica Initiative to promote sustainable mica production in the Indian states of Bihar and Jharkhand (where child labour in mica production is widespread).
However, our experience is that at present, few companies that utilise mica in their products are undertaking effective due diligence mica supply chains. Mica produced by child labour is almost certainly currently used in the supply chains of well-known consumer brands.
Failure to address systemic human rights impacts in mica supply chain
Unfortunately, despite the progress that has been made, efforts to-date have not effectively addressed the systemic challenges associated with global mica sourcing and processing. Further, most existing mica programmes have focused on addressing challenges in Bihar and Jharkhand in India. From our work in the mica supply chain we observe that some companies think that if they are not sourcing mica from India then there is no risk in their supply chain – a similar trend to the historic focus on the Democratic Republic of Congo (DRC) in relation to so-called 'conflict minerals' (tin, tantalum, tungsten and gold).
The reality is mica is sourced from high-risk areas across the world (as the map below from SOMO's 2018 report on child labour in mica mining shows) in complex, multi-tiered supply chains.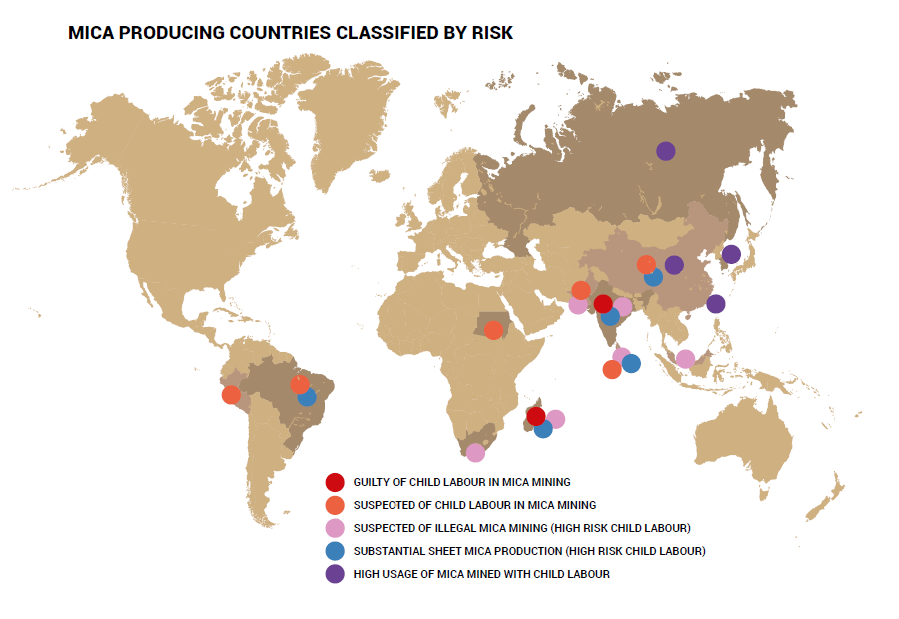 Effective supply chain due diligence necessary
For companies with mica supply chains it is therefore critical that effective due diligence is undertaken, following the recognised good practice framework set out in the OECD's Due Diligence Guidance for Responsible Supply Chains of Minerals from Conflict-Affected and High-Risk Areas. It is simply not credible for a downstream consumer brand to claim it is taking action on mica supply chain risks by supporting an initiative that works in one geographic area, unless that company has done the due diligence that confirms it is not sourcing mica from other high risk areas.
At Kumi we are currently working with a major consumer brand to map the company's mica supply chain and evaluate the management controls and sourcing risks at each level of the supply chain. This work is starting with a series of due diligence assessments – against OECD Guidance recommendations – of suppliers that provide mica-containing products to the consumer brand, working upstream from there. The brand's objective is to determine if mica in the brand's supply chain is being (or could be) sourced from high risk areas so that appropriate risk mitigation measures can be put in place.
Whilst this work is ongoing, already clear trends are emerging:
Suppliers in the mica supply chain (product manufacturers or material processors who are several tiers removed from consumer brands) are largely unaware of the concept of mineral supply chain due diligence or why it is important for mica.
Most companies cannot assert with confidence that they know where raw mica in their supply chain is mined.
Where mineral supply chain due diligence of any sort does exist, it tends to be exclusively desk-based and focused on 'conflict minerals' and the DRC – driven by consumer brands' compliance requirements for the US Conflict Minerals Rule.
Local efforts to address child labour risks in mica supply chains are not a substitute for due diligence
The work that is currently underway to address child labour risks on the ground in the key mica production regions of Bihar and Jharkhand in India is critically important and should be supported by companies who utilise mica in their products.
However, this alone is not enough – supporting such work is not a substitute for due diligence.
The OECD Guidance is clear that companies are responsible for undertaking due diligence on their supply chains. Only by undertaking due diligence can companies establish whether their sourcing practices are contributing to or are linked to adverse impacts and then take effective actions in response.
Based on our experience, many companies with mica supply chains have quite some way to go. Due diligence needs to be prioritised, not just from the perspective of supply chain risk management but also as an enabler for companies to help drive meaningful improvements on the ground in mica producing regions.
–
If you'd like to know more about supply chain due diligence and how Kumi can help you implement responsible sourcing practices, please contact us.